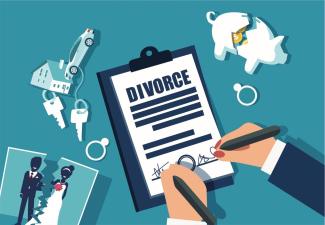 Financial Considerations Pre-divorce, During Divorce and Post-Divorce
Ordinarily, working with a financial planner is a crucial step in securing the long-term financial wellbeing for you and your family. As we all know though, life can come at you fast and when you're unexpectedly faced with the prospect of a divorce, the need for an effective financial plan can become even more critical. Your world can flip upside down and you'll be forced to accept potentially harsh new financial realities  that alter your short and long-term goals. Working with your financial  planner will educate you on your options and together you can  structure a new plan that accounts for multiple outcomes when the divorce is finalized. Our goal as financial planners is to develop a strategic plan that will prevent you from making rash, emotional decisions and mistakes that could potentially cost you thousands of dollars down the road. It's also worth knowing no what steps you can take to protect yourself before, during and after the divorce. 
Pre-divorce
You should consider establishing a prenuptial agreement prior to getting married or a post-nuptial agreement if you're already married. These types of legal contracts will set boundaries on what assets can be claimed by each party during a divorce. These are especially beneficial if one party makes significantly more income has a significantly higher net-worth or is expecting a large inheritance down the road. Divorce can be a messy process and it's likely the last thing you'll want is to give up an unfair amount of your assets to an ex-spouse. 
You should update your beneficiaries on all investment accounts and insurance contracts immediately. This includes employer-sponsored retirement accounts like 401k's and 403b's. This is a step that is often missed or overlooked amidst the chaos of an ongoing divorce and is crucial to preventing your ex-spouse from acquiring your investments if you are to unexpectedly pass away. Even if you get remarried down the road, the law currently grants inheritance rights to an ex-spouse as long as they are listed as the beneficiary on an employer-sponsored retirement account. 
You will want to update any will, trust, or healthcare proxies that you might have. If there are young children, then you may want to consider naming a successor custodian of your assets until the children are of age and can inherit the money. These steps are vital to ensuring that your wealth transfers to the heirs and charities that you want to support. 
During Divorce: 
You will need to work with a family law attorney that you trust. As your financial planners, we will work closely with your attorney to help gather and organize critical financial information that can be used to create a Schedule of Assets and an Income and Expense Declaration. 
Your attorney will use this information to prudently defend and negotiate a settlement for you either through mediation, arbitration, or in a divorce hearing and also guide you through complex settlement issues like child support, alimony buyouts etc.. 
Post-Divorce: 
Once a divorce settlement has been reached, it will be imperative that you meet with us to review your assets, cashflow, and net-worth projections going forward. This will provide you with a better understanding of what your post-divorce lifestyle  should look like and offer a solid foundation for your future financial stability. 
A divorce can be incredibly stressful, so working with a therapist who can provide you the emotional support, and an advisor for your financial matters, can help you through this difficult period. 
If you'd like to learn more about how you can protect yourself in the event of a divorce or if you know anyone currently that may be or is going through a divorce, please reach out to us! 

Divorces can be complicated and you should consult with your attorney for specifics regarding your situation. The Pitti Group does no provide legal advice. 

The Pitti Group Wealth Management, LLC ("The Pitti Group") is a registered investment advisor. Advisory services are only offered to clients or prospective clients where The Pitti Group and it's representatives are properly licensed or exempt from licensure.