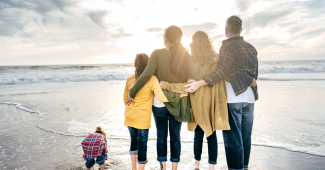 Legacy Planning: How to Safeguard Your Loved Ones' Future
We can all agree that life is unpredictable. With this in mind, it's not hard to see just how important it is to plan for the future—and more specifically, our financial future. 
As the figurehead for your family, you have the power to make proactive decisions to support your family's future and preserve your legacy. The sooner, the better. 
Let's explore some specific financial planning strategies you can start today that can help you in safeguarding your loved ones' future.
Beyond Estate Planning 
When it comes down to it, money can be an emotional subject, especially when it concerns looking out for our loved ones. The last thing anyone wants is to burden their family with financial uncertainty or leave behind a complicated estate that loved ones can't possibly manage.
If you're worried about assets being passed on according to your wishes, you'll want to work toward having a solid estate plan in place. Otherwise, if you die without one, you could leave your inheritance to state probate decisions (which are notoriously time-consuming and expensive).  
But there's another type of family financial planning that encompasses more than just your estate. It's known as legacy planning: a specialized type of financial planning that could finally ease your mind around your loved ones' future.
Estate Planning vs. Legacy Planning
While both estate planning and legacy planning focus on the smooth transfer of wealth at incapacitation or death, legacy planning takes things to the next level.
Where estate planning mainly deals with the concrete assets and financial values left behind when someone passes away, legacy planning delves into the less tangible elements.
Legacy planning enables you to pass down not just financial wealth but also your values, principles, and beliefs. With legacy planning, you have the opportunity to benefit future generations and foster generational wealth-building—all while aligning your wealth with your individual values and intentions.
Creating a Lasting Family Legacy 
Effective legacy planning can help your beneficiaries receive the most from the assets and properties you leave behind for them. Proper legacy planning is a crucial aspect of retirement and financial planning because it helps to safeguard against financial predators and provide an effective plan for asset transfer. 
This could include putting proper wills and trusts in place, as well as naming beneficiaries on your individual retirement accounts (IRAs). However, the SECURE Act requires most non-spouse beneficiaries to distribute an inherited IRA within 10 years. No one wants to see their legacy lost to taxes. Using life insurance as a tax recovery method can be a smart, proactive legacy planning strategy to replenish the considerable amount of taxes that high-earning children may be subject to. 
For those of us looking to leave a lasting impact on our loved ones, legacy planning is a great way to avoid the conflict or uncertainty that can come with unclear direction. That's because legacy planning that includes wealth management for children can be an effective and protective mechanism for grandchildren. 
Engaging Financial Professionals & Legacy Planning
When it comes to safeguarding your loved ones' future, arguably nothing is more valuable than collaborating with a financial professional. Financial professionals help provide insights on leading a fulfilling life without financial stress.
It's true, there are many online platforms that are useful for providing basic documentation, such as your will. But beyond the basics, it's crucial to engage an experienced professional who can provide tailor-made strategies and recommendations, so nothing is left to chance. 
What's more, a financial professional can help you create a family financial plan that integrates your unique values into the wealth transfer. With objective guidance, you can aim to create an enduring legacy that can help reduce tension or uncertainty in the future—while giving you confidence today. 
How We Can Help
If we recognize that life is unpredictable at best, we can see just how important it is to plan for the future. We believe early estate and legacy planning is critical to preventing potential complications and uncertainties for your loved ones.
We at The Pitti Group Wealth Management are committed to helping you prepare as early as possible for life's unpredictability. Our philosophy has always been to put our clients first and prioritize our family-oriented culture—so you can prioritize yours.
Whether you're looking to develop an estate plan or delve deeper into comprehensive family financial planning, we would love to help. It's been said the best time to plan was yesterday. The second-best time is now. Together, we can help preserve your legacy and provide confidence for your family's future. To schedule a meeting, call (585) 337-4000 or email s.pitti@thepittigroup.com / m.pitti@thepittigroup.com.
About Sal
Sal Pitti is president and financial advisor at The Pitti Group Wealth Management, a boutique financial services firm with a deep breadth of capabilities and resources to help corporations, retirees, nonprofits, high-net-worth individuals, and professionals pursue their financial goals. The firm focuses on various aspects of investment planning and investment management; with 3 decades of experience in the financial services business, Sal loves seeing the end result after years of planning and the joy it brings to clients. He prides himself on providing a tight-knit, family-oriented team that truly gets to know clients. Always accessible, they're continuously learning how to bring added value to clients.
After 22 years working for a large brokerage firm, Sal and his son, Matt, felt that the firm's goals didn't align with theirs and their clients, so they decided to become independent advisors and founded The Pitti Group Wealth Management in 2016. Sal is a CERTIFIED FINANCIAL PLANNER™ practitioner, Chartered Retirement Plans Specialist™, an Accredited Investment Fiduciary®, a graduate of the University of Maryland, Cum Laude, and holds a master's degree in business management. He served in the United States Air Force working in the intelligence field, during which time he lived in and spent time in many countries, receiving numerous honors and awards during his tours. He has completed the Senior Financial Advisor program from the University of Pennsylvania, Wharton School, and also holds licenses for securities, insurance, and long-term care. Sal resides in Canandaigua and is very active in his community. He enjoys golfing, traveling, visiting beaches, spending time with family, and is an avid outdoorsman. To learn more about Sal, connect with him on LinkedIn.
About Matt
Matt Pitti is Senior Vice President and Wealth Advisor at The Pitti Group Wealth Management, a boutique financial services firm with a deep breadth of capabilities and resources to help corporations, retirees, nonprofits, high-net-worth individuals, and professionals pursue their financial goals. Matt has worked in the financial services industry for 20 years, and as an Accredited Investment Fiduciary® designee, his main priority is to place clients' interests ahead of his own. He takes time to develop a detailed and customized wealth planning strategy to not only fit their needs today but help get them where they want to be in the future. His holistic approach encompasses many facets of financial planning to make sure their plan is the best solution for them. Matt also works as the advisor of several 401(k) plans to support plan sponsors, address their fiduciary responsibilities, as well as guide the employees in building individualized retirement plans.
After 10 years as an Associate Vice President at Morgan Stanley, Matt, his father, and staff founded The Pitti Group Wealth Management in 2016. Matt holds a degree in economics from the State University of New York at Cortland. In addition to his AIF® designation, he holds the Series 7, 31, and 66 certifications and a Life, Accident & Health insurance license. Residing in Penfield with his wife and two children, Matt proudly spends his free time watching his daughter's dance competitions and his son's travel baseball games. He also enjoys playing soccer, golfing, paddle, and is an avid outdoorsman. To learn more about Matt, connect with him on LinkedIn. 
The Pitti Group Wealth Management LLC ("the Pitti Group") is a registered investment advisor. Advisory services are only offered to clients or prospective clients where the Pitti Group and its representatives are properly licensed or exempt from licensure. For additional information, please visit our website at https://www.thepittigroup.com/.
This information is general in nature and should not be considered tax advice. Investors should consult with a qualified tax consultant as to their particular situation.
All information has been obtained from sources believed to be reliable, but its accuracy is not guaranteed. There is no representation or warranty as to the current accuracy, reliability or completeness of, nor liability for, decisions based on such information and it should not be relied on as such.